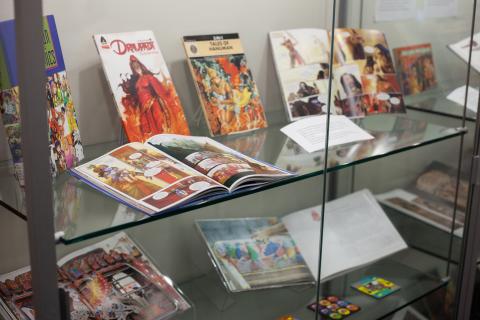 Exhibit Guidelines | Exhibit Proposal Form | Past Exhibits
Exhibits at the Scholars Commons @PCL provide an excellent opportunity for the Libraries to engage in collaborative and interdisciplinary projects, especially with graduate students, faculty members and others in the University community. Exhibits have a permanent presence in our online repository, Texas ScholarWorks.
The goals of the Exhibits in the Scholars Commons @PCL are to: 
Infuse concepts of inclusion, diversity, equity and accessibility (IDEA)
Promote the diverse holdings and scholarly value of specific Library collections
Promote the role of the Libraries, its collections, resources, services, and staff as central to the research and teaching programs of the University
Encourage individuals from the University community to collaborate with the Libraries to showcase research and scholarship
Support university events, programs, symposia, activities, and accomplishments
Promote University and community relations
If you have an exhibit to suggest for the Scholars Commons @PCL, please take a look at our in-depth Exhibits Guidelines before you fill out our Exhibit Proposal Form. You will be contacted by the Exhibits Advisory Committee, but you may email us with questions.