Perry-Castañeda Library
Location:
101 E. 21st Street
Austin, Texas 78712
Mailing Address:
Scholars Lab
University of Texas Libraries
University of Texas at Austin
101 E. 21st St. S5460
Austin, Texas 78712-1490
Phone:
(512) 495-4300
Fax:
(512) 495-4296
The Scholars Lab is a PCL-based campus-wide resource that provides researchers with infrastructure, UT Libraries subject librarian and domain-situated expertise, and opportunities for learning, consultation, collaboration and research presentation to enhance multidisciplinary research and digital scholarship.
Scholars Lab services draw from a diverse group of UT Libraries experts to provide a framework of research and scholarship support throughout the research lifecycle: planning, conducting, publishing, and increasing access to and impact of research.
It is located on the entry-level of the Perry-Castañeda Library, in a space adjacent to the lobby and Scholars Commons. It includes a Data Lab, Scan Tech Studio for digitization of print materials and optical character recognition, hybrid meeting-enabled project rooms, and a variety of spaces for both individual and collaborative productivity.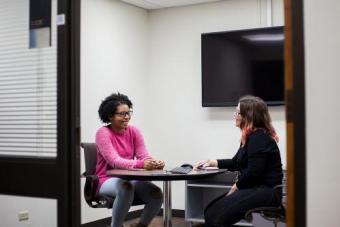 People
• Engage a growing community of serious scholars engaged in research and teaching enabled by digital technologies.
• Invite and nurture intersections of scholars at all phases of practice, and support project work reflective of all perspectives, lenses and voices.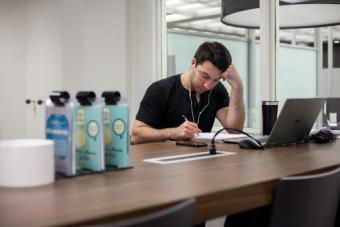 Place
• Build on a successful Scholars Commons pilot project.
• Facilitate the development of digital scholarship community and interdisciplinary researcher networks through physical meeting and group work spaces.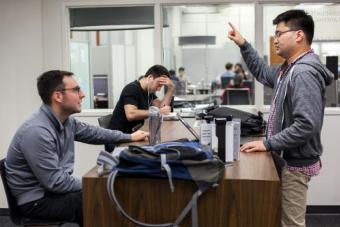 Scholars Lab Advisory Group
Tanya Clement,

Associate Professor, Department of English, College of Liberal Arts; Director, Initiative for Digital Humanities

Jim Cox

, Associate Dean of Graduate Studies, Graduate School  

Eric Meyer

, Dean, School of Information

Rachel Davis Mersey

, Interim Dean, Moody College of Communication

Luisa Nardini

, Associate Professor, Butler School of Music,  College of Fine Arts

lorraine haricombe

, Vice Provost and Director, University of Texas Libraries

Chris Carter

, Director of Organizational Effectiveness, University of Texas Libraries 

Jenifer Flaxbart

, Assistant Director of Research Support and Digital Initiatives, University of Texas Libraries 

Allyssa Guzman

, Head of Digital Scholarship Services, University of Texas Libraries 

Catherine Hamer

, Director of Academic Engagement, University of Texas Libraries

Karina Sánchez

, Scholars Lab Librarian, University of Texas Libraries