The Foundry is a makerspace that is located in the Fine Arts Library on the 3rd floor of the E. William Doty Fine Arts Building. It provides access to tools and space in support of creative projects and is open to all university students, faculty and staff. Patrons can be trained to use a laser cutter, 3D printers, sewing and embroidery machines, mills, and other creative equipment. The Foundry also features a video wall and a recording studio.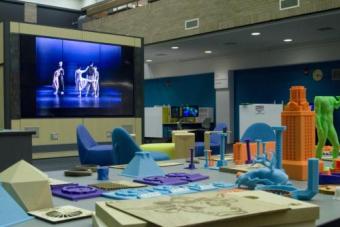 Join our Canvas Course to learn about the equipment and services we provide. Some equipment requires certification, and other equipment is available on a walk-up basis.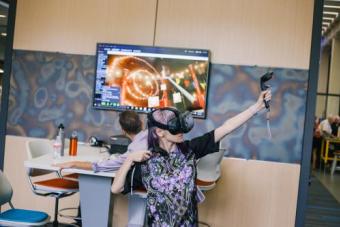 Request use of the Foundry for teaching, course related work, workshops, or other activities.
Space
Description
Foundry Mac Pro Workstations


Fine Arts Library
Floor Third Floor

6 Apple Quad-Core Intel i7 Mac Pros, each with two 27" screens and software for video and audio post-production, 3D modeling and Adobe Creative Cloud. Uses: Gaming, film, multimedia production.

Computer Workstation Area
Foundry Makerspace


Fine Arts Library
Floor Third Floor

Space with 3D printers, mills, a laser cutter, a large format printer, and a fiber arts lab with embroidery and sewing machines.

Makerspace
Foundry Video Wall


Fine Arts Library
Floor Third Floor

This state of the art video wall is intended for special projects, demonstrations, and presentations. Seating room limit of 70 chairs. To reserve contact Teri Lloyd, tlloyd@austin.utexas.edu. 

Makerspace, Presentation Space
Recording Studio


Fine Arts Library
Floor Third Floor

Recording studio with soundproof room.

Makerspace
Equipment at the Foundry
A listing of equipment for checkout is currently unavailable online. Please visit or call a Libraries service desk to inquire about availability.
Fine Arts Library
Location:
Doty Fine Arts Building 3.200
2306 Trinity St.
Austin, Texas 78712
Mailing Address:
2306 Trinity St.
Stop S5437
Austin, Texas 78712
Phone:
(512) 495-4481
Fax:
(512) 495-4490