The John M. Kuehne Physics Mathematics Astronomy (PMA) Library serves the physics, mathematics, and astronomy information needs of the entire university community, as well as the research information needs of the Physics, Mathematics, and Astronomy departments.
Featured Resources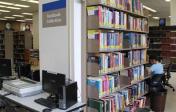 Textbook Collection
The library's collection includes older textbooks for linear algebra, pre-calculus and calculus, and differential equations. We have copies of the Problem Solvers Series for Mathematics and Physics and Schaum's Outline Series for Mathematics and Physics. Each textbook may be checked out for three days at a time.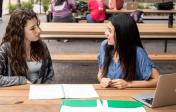 The Sanger Learning Center offers free tutoring for UT students in many subjects, including Mathematics. Students who are having trouble with math homework are encouraged to attend a drop-in tutoring session, or to contact the Sanger Learning Center to schedule one-on-one tutoring.
Physics, Mathematics & Astronomy Library
Location:
Physics, Math and Astronomy Building
4.200
2515 Speedway
Austin, Texas 78713
Mailing Address:
Physics Math Astronomy Library
UT Libraries
2515 Speedway
Stop S5441
Austin, Texas 78713
Email: