The Walter Geology Library serves the Jackson School of Geosciences (Department of Geological Sciences, the Bureau of Economic Geology, Institute for Geophysics) and other users of geoscience information. In addition to state funding, the Walter Geology Library benefits from several endowments maintained by the Jackson School's Geology Foundation.
Our Research Guide

The first-stop portal to geology information resources, including library holdings, databases, maps, and useful links.
Featured Resource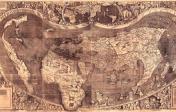 The Walter Geology Library Maps Collection
The Tobin Map International Geological Collection of the Walter Geology Library consists of more than 47,000 maps and map texts arranged geographically, following the general outline of the Library of Congress G (Geography) classification schedule.
Walter Geology Library
Location:
Jackson Geological Sciences Building 4.202
East 23rd St.
Austin, Texas 78712
Mailing Address:
Walter Geology Library
JGB 4.202
Austin, Texas 78712
Phone:
(512) 495-4680