Large-format printing is a service available to UT Faculty, Staff, and Students, as well as to visiting conference attendees and presenters, for their academic poster needs during the standard semester terms. Our services are suspended in accordance with student break schedules outlined by the Office of the Registrar. 
To Submit an Order:
To submit a poster order, please complete all necessary sections on our order form.  The following information is required:
Full name, valid email address, and UT EID.
Intended method of payment. We accept payment via departmental account transfer (please provide department name and 10-digit account number) or via credit card, electronic fund transfers, or eCheck online.
Your file(s) in PDF format.
Size at which you would like your poster printed. The dimensions of the poster must not exceed 42" x 60".
If your file is larger than 15MB, you must email posterprinting.libraries@austin.utexas.edu with a link to the Box file or you must make an appointment to bring the file to our offices on a USB. We do not accept files larger than 40MB.
Please allow 1-2 business days for your poster to be printed. You will be contacted via email when your poster is ready to pick up.
The surface area of the poster must be less than 50% saturated with ink, with the background set to Transparent (not to White). Our office is not responsible for spelling or graphics errors on submitted files. You will be charged for the original order and any re-prints.
We reserve the right to return a poster for revision if bright or dark colors account for a significant portion of the poster. Note that all poster printing is done through a PC, and that MAC/PC compatibility issues are possible. Each computer and monitor represent colors slightly differently—color variation is normal, and colors on your printed poster may not be an exact match to the colors on your screen.    
NOTE ON COPYRIGHT: If you plan to include any UT logos or trademarks in your poster, you must obtain authorization for use of appropriate logos from the Office of Brand, Trademark & Licensing. You can apply for approval through this online portal: https://portal.trademarks.utexas.edu. You can direct any questions to trademarks@utexas.edu.
UT EID Holders: $10/linear foot
Non-UT Affiliates: $11/linear foot
42" Cardboard Mailing Tubes: $5/each
Sales tax is not included in the above pricing.
Payment for posters and tubes are accepted via Inter-Departmental Transfer or via Credit Card online. While we do not accept cash, we accept electronic funds transfer and electronic checks.
For a visual explanation of "linear foot" pricing, please see below: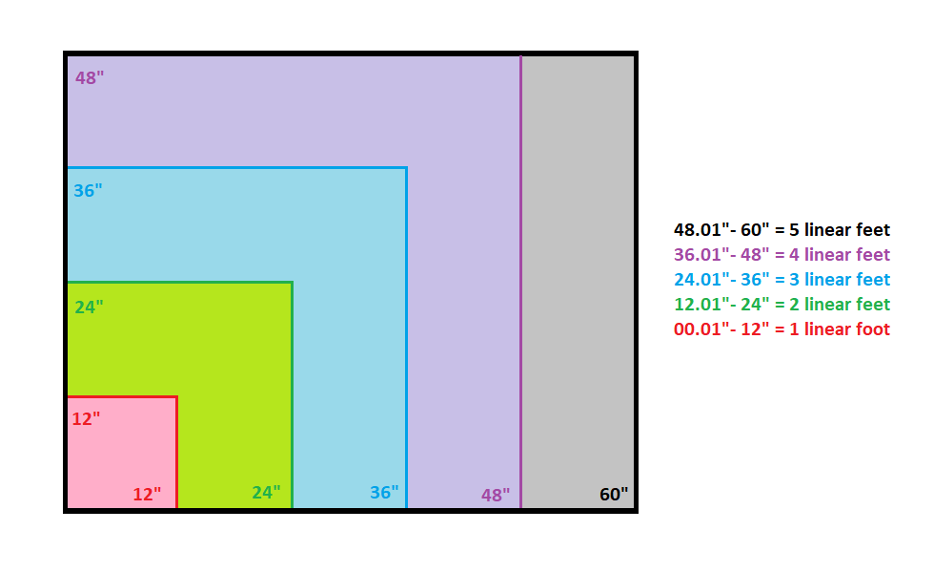 EX: if you were to lay a poster sized 32" x 46" over the above infographic, it would extend into the purple section, between 36.01" and 48", and therefore would be considered 4 linear feet, costing $40 for a UT EID Holder or $44 for a Non-UT Affiliate.
NOTICE TO FACULTY: If your department would like to pay for student posters via an Inter-Departmental Transfer, please email posterprinting.libraries@austin.utexas.edu with a Microsoft Excel spreadsheet showing the full 10-digit account number and a list of approved students, formatted as below: