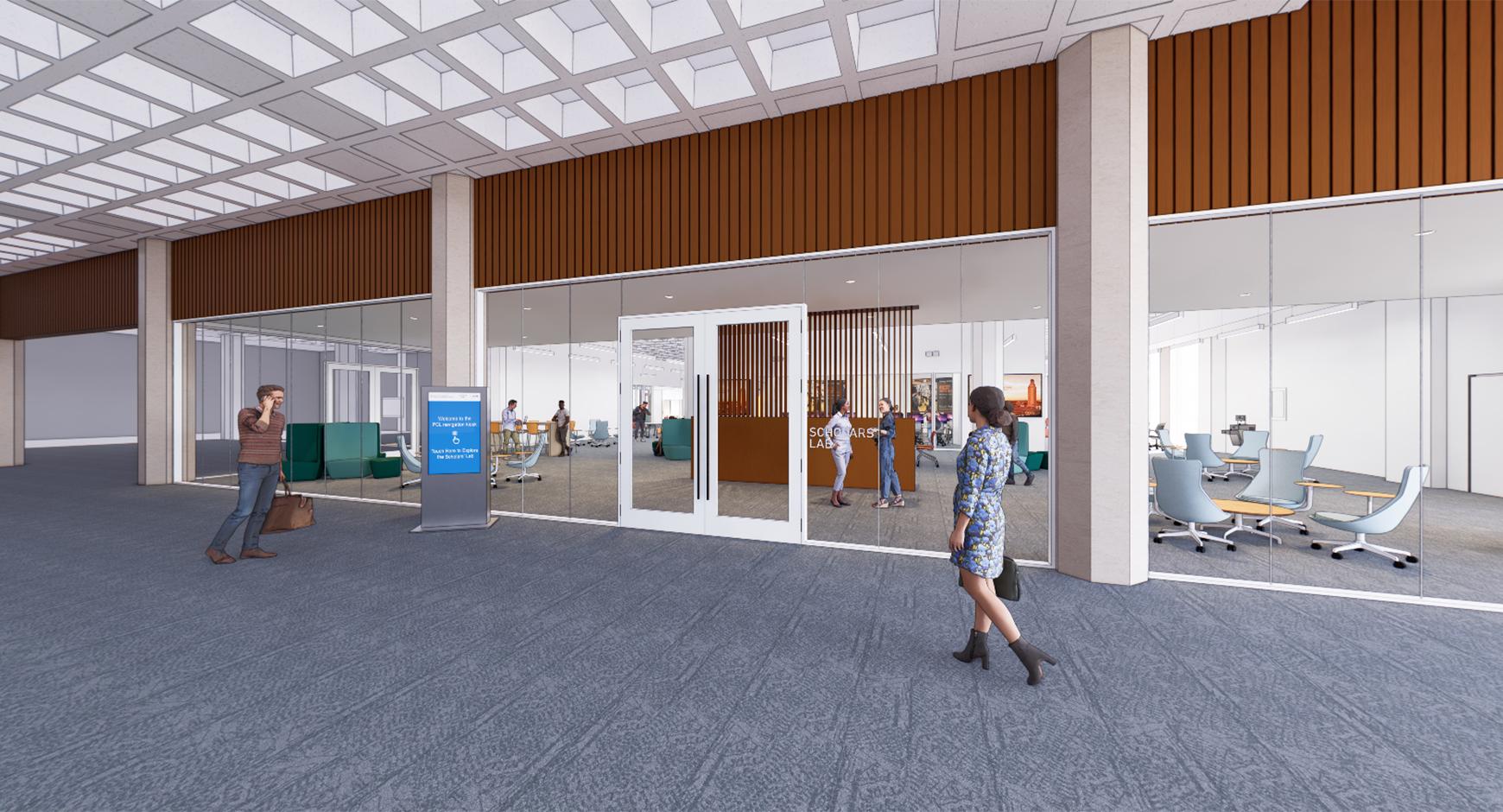 Researchers at The University of Texas at Austin will soon have a new space for scholarly collaboration and innovation on the Forty Acres.
Construction is underway in the creation of a new Scholars Lab on the entry level of the Perry-Castañeda Library (PCL) that aligns with a growing focus on digital scholarship at the university. It will provide a technology-forward community hub for interdisciplinary scholarship for students, faculty and researchers.
"The Scholars Lab is envisioned as supporting and enhancing digital humanities scholarship with the expertise and support of Libraries' staff, resources and services," says Assistant Director of Research Support and Digital Initiatives Jenifer Flaxbart. "The project will result in a campus-wide resource that provides infrastructure, access to Libraries' subject librarian and other research life cycle-situated experts and opportunities for learning, consultation, collaboration and research presentation to enhance multidisciplinary research and digital scholarship."
The new Scholars Lab will inhabit a significant space formerly occupied, in part, by the PCL's largest computer lab, and will feature a variety of study and collaborative project areas to accommodate a range of digital scholarship and data-related activities. A 32-seat Data Lab with high end Apple computers will provide a suite of specialized data analysis software for drop-in use as well as faculty/research-guided project work. Six medium-size Project Rooms with robust videoconferencing capabilities will provide meeting and collaborative space for projects or drop-in use; four smaller Huddle Spaces offer similar options for limited group work. The Scholars Lab will also provide ample collaborative and individual study space for serious scholarship with modular furniture, whiteboards, and sequestered seating for solitary study.
To enhance the collaborative design for the space and to build a sense of community for users, the Scholars Lab will also become home to relevant digital scholarship events and activities that have been developed in recent years – such as Digital Scholars in Practice, Data and Donuts, and Digital Humanities workshops – and will feature new Libraries' and campus community-driven programming.
The Libraries has long been on the leading edge of incorporating innovations at the nexus of information resources and technology. From the early adoption of an online catalog and access to the world wide web, to the development of online resources – like VOCES, the Human Rights Documentation Initiative, and the South Asian Open Archives – as well as the development of digital and data repositories like Texas ScholarWorks and the Texas Data Repository, the Libraries has continued to adapt technological innovation to traditional library resources and services to keep up with a changing world. The redevelopment of Libraries' spaces continues to be informed by campus needs that are influenced by the ever-evolving higher education landscape – digital scholarship is supported in constant updates to physical infrastructure of computer and data labs, as well as the strategic acceleration of digital preservation and access.
The Scholars Lab is a next step in the development of the idea of "Libraries as Platform," where the digital and analog are being integrated to spur innovation across disciplines and areas of inquiry. The project has developed in parallel with the expansion of digital scholarship initiatives across academia, and has largely been motivated by feedback and efforts from campus faculty, researchers and administrators. College of Liberal Arts Associate Professor Tanya Clement, who was instrumental in organizing and hosting the 2017 Humanities Intensive Learning and Teaching (HILT) conference at the university, has helped to make the project a reality, and the Office of the Vice Provost provided funding for the redevelopment of the space after it was initially interrupted by the health crisis.
"Digital humanities scholars have few lab spaces on campus where we can create and collaborate," explains Clement. "The Scholars Lab in PCL will afford much-needed centralized space alongside opportunities to take advantage of expertise and training that will enhance innovation and community-building."
"We've anxiously awaited the Scholars Lab, discussed as a concept for years now, and are so excited to see that its construction is now underway."
While the Scholars Lab may seem like a natural fit for advanced degree holders and researchers, the space has significant appeal for the undergraduate community, as well. The extensive special collections and primary resources held across the university – at institutions like the Benson Latin American Collection, the Harry Ransom Center, the Blanton Museum of Art and the Briscoe Center for American History – are increasingly being applied to classroom learning. With the supporting informational resources cultivated and maintained by the UT Libraries, and the co-location of the Scholars Lab at the PCL with complementary services and expertise, students will have heightened opportunities to participate in collaborative projects, or develop digital scholarship of their own.
Amy Shreeve – a Senior Rhetoric & Writing and History double major in the College of Liberal Arts – is president of Texas Student Digital Humanities, a student organization which seeks to engage undergraduates on campus with digital methods (like coding and GIS) and apply these methods to digital questions, has had a role in providing support and feedback for the project.
"This is a great moment for such a space to come into being since more and more students are getting involved in digital projects," says Shreeve. "Not only is this hub important for students at UT, but it is also important for UT as a whole since it strengthens the university's digital research and could increase the amount of undergraduate research coming out of the institution."
The Scholars Lab will open in Fall 2023.