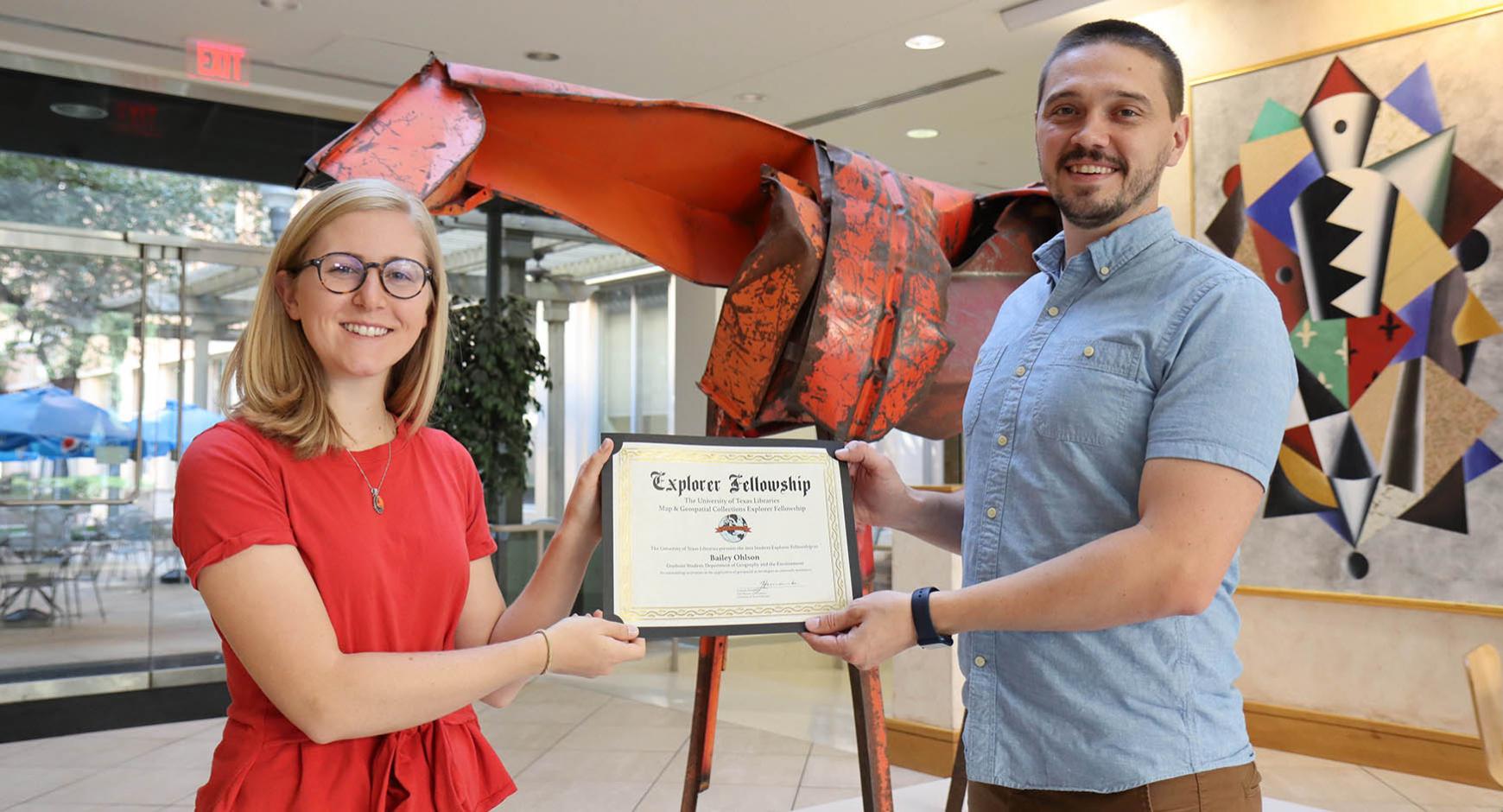 The University of Texas Libraries announced the winners of the first Map & Geospatial Collections Explorer Fellowship at a GIS Day event on Wednesday, November 17.
The Explorer Fellowship debuted this fall to encourage scholarly and creative use of maps and geospatial assets from University of Texas Libraries collections, such as those made available through the Texas GeoData portal, the Collections portal and the Perry-Castañeda Library Map Collection. The fellowship will be offered annually, with recipient categories for Faculty – including post-doctoral candidates – and student researchers.
This year's faculty recipient is Dr. Ginny Catania, professor, Department of Geological Sciences at the Jackson School of Geosciences. Dr. Catania's research involves understanding ice sheet and glacier changes both from natural variability and climate forced variability. She has over 20 years of experience studying ice sheet change with a focus on the Greenland Ice Sheet, and her work highlights changing regions in Greenland through novel remote-sensing techniques coupled to in-situ observations. Dr. Catania has worked extensively at both poles and has published on an array of topics related to ice sheet change since 2000. She has been at UT since 2005.
Her winning project proposal acknowledges and addresses the threat from sea-level rise to the Texas coast, which produces ~$400 billion in economic value, that is increasingly visible with widespread impacts across human, built, and natural environments. This project plans to build a map of coastal change for the State of Texas to enable detection of the regions of greatest change (hotspots). By studying hotspot locations in conjunction with environmental data, we can understand the processes responsible for change and how such regions might be impacted from future sea level rise. Map data will be superimposed with demographic data to determine the coastal populations most at risk from sea level and associated threats.
Geography graduate student Bailey Ohlson, of the Department of Geography and the Environment, is the 2021 student award recipient of the fellowship. Ohlson received her BS in Geology with a minor in Geographic Information Science and Technology (GIST) from Texas A&M University in College Station in 2021.
Ohlson's winning project proposes studying critical watersheds in Puerto Rico (PR) and their downstream fresh-water reservoirs in order to quantify sediment accumulation rates and identify environmental controls on erosion. Ohlson will use maps from the Perry-Castañeda Library Map Collection to characterize past land use in PR and determine their influence on sediment accumulation. She also plans on publishing a database of bathymetric data in the Libraries' repositories with pre-existing bathymetric data from government agencies as well as new data she will be collecting using a bathymetric hydro-drone.
As part of the prize requirements, awardees will showcase their project progress at a future Libraries event. Additionally, their work will be featured in one or more Libraries' repositories, ensuring long-term preservation and a citable persistent link to project outcomes.
If you are interested in supporting the Explorer Fellowship, contributions may be made through the UT Libraries Development Office by contacting Hannah Roberts.