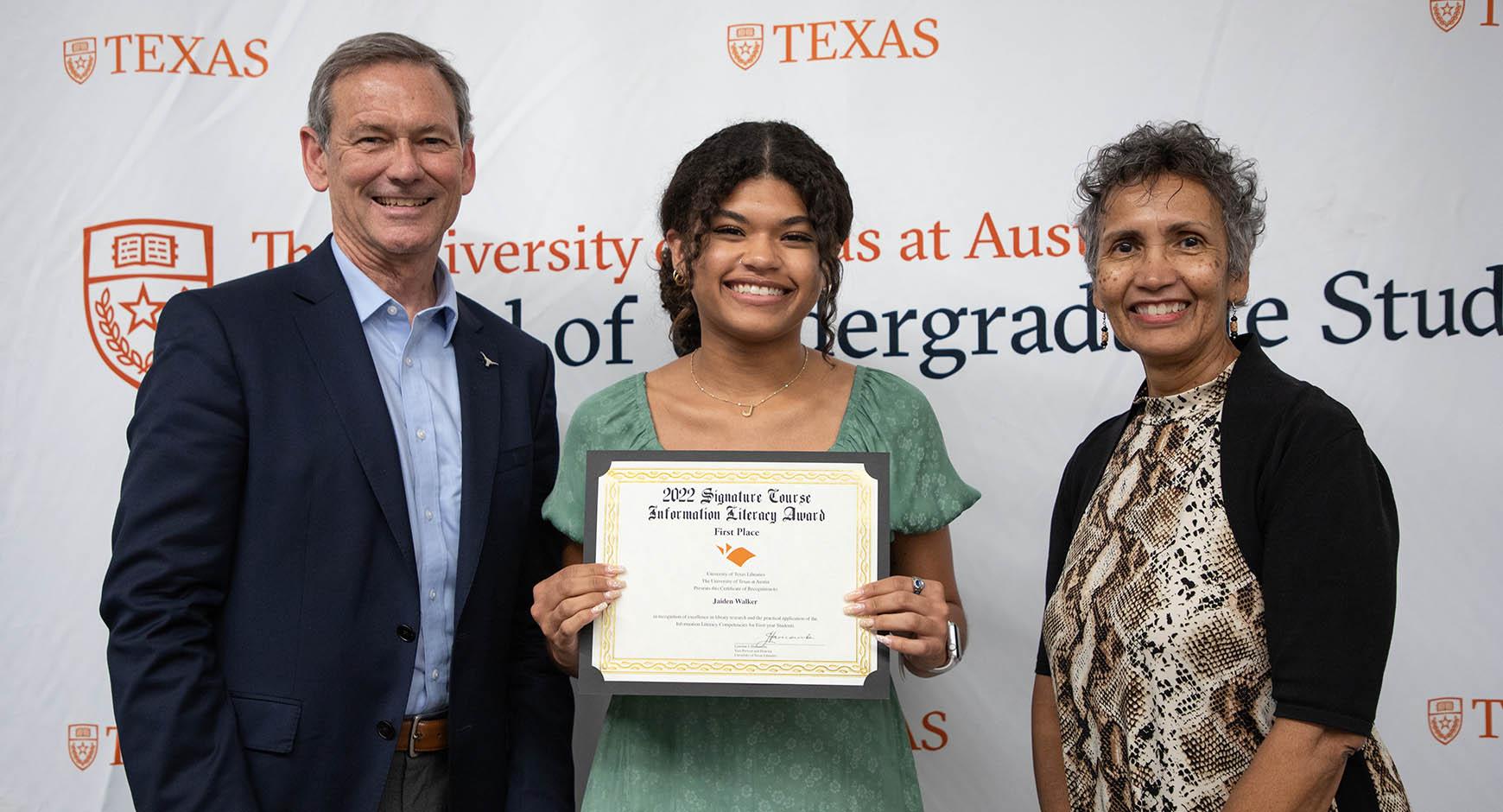 The University of Texas Libraries recently announced the winners of the 2022 Signature Course Information Literacy Award. 
The award recognizes exemplary student work that achieves the information literacy learning outcomes of Signature Courses, the ability to find, evaluate, correctly cite, and synthesize sources into their research projects. A panel of librarians and UGS staff chose three winners who best demonstrated these skills from over 40 faculty-nominated and self-nominated submissions. This award comes with a cash prize.  
Biology Honors sophomore Jaiden Walker earned first place for her self-nominated paper "His Final Words: A Wild Plaint Calls Attention to Black Male Mental Health" completed in Dr. Arturo De Lozanne's course UGS 303: Originality in the Arts and Sciences. "Ms. Walker brings in an abundance of outside evidence to back up her claims that Johnson's poem paints a bleak, systematic picture of Black men's poor mental health in America," says Teaching Assistant Olivia Spiers of the work. "She also includes direct quotes to further drive her points that Johnson's turbulent feelings and emotions within the poem mirror many of the struggles Black men still face today. ...Ms. Walker brought an empathetic touch to her methodical study."
Second Place went to Neha Donthineni, for her self-nominated paper "Lost in Translation: La mala hora to Minority Language Suppression" from Dr. De Lozanne's course UGS 303: Originality in the Arts and Sciences. "During her time researching this work, Ms. Donthineni was in close contact with Harry Ransom Center employees in order to receive the most complete and authentic analysis of her chosen artifact," explains Teaching Assistant Spiers. "While her paper was rooted in the novel's characteristics and historical context, Ms. Donthineni launched her paper into contemporary times by bringing in recent research on minority language suppression and its impacts around the world today. She shows adept skill in narrowing in her findings and organizing her research on such complex issues in a very understandable and fluent way."
Sophomore Ty Hanson earned third place for his paper "Homeopathy: An Overview and Analysis." This work was nominated by Dr. Jacqueline Woolley and completed in her UGS 302 class "Why We Believe Weird Things." Woolley said of Hanson's paper "I selected this particular paper...because [it] was fascinating and included a wide range of information on the topic – homeopathy. Much to the chagrin of his peer reviewer, his paper was about twice as long as it was supposed to be, but it so wonderfully reflects his boundless enthusiasm about the topic that I didn't mind."
All three papers have been placed in the open access University of Texas Digital Repository.