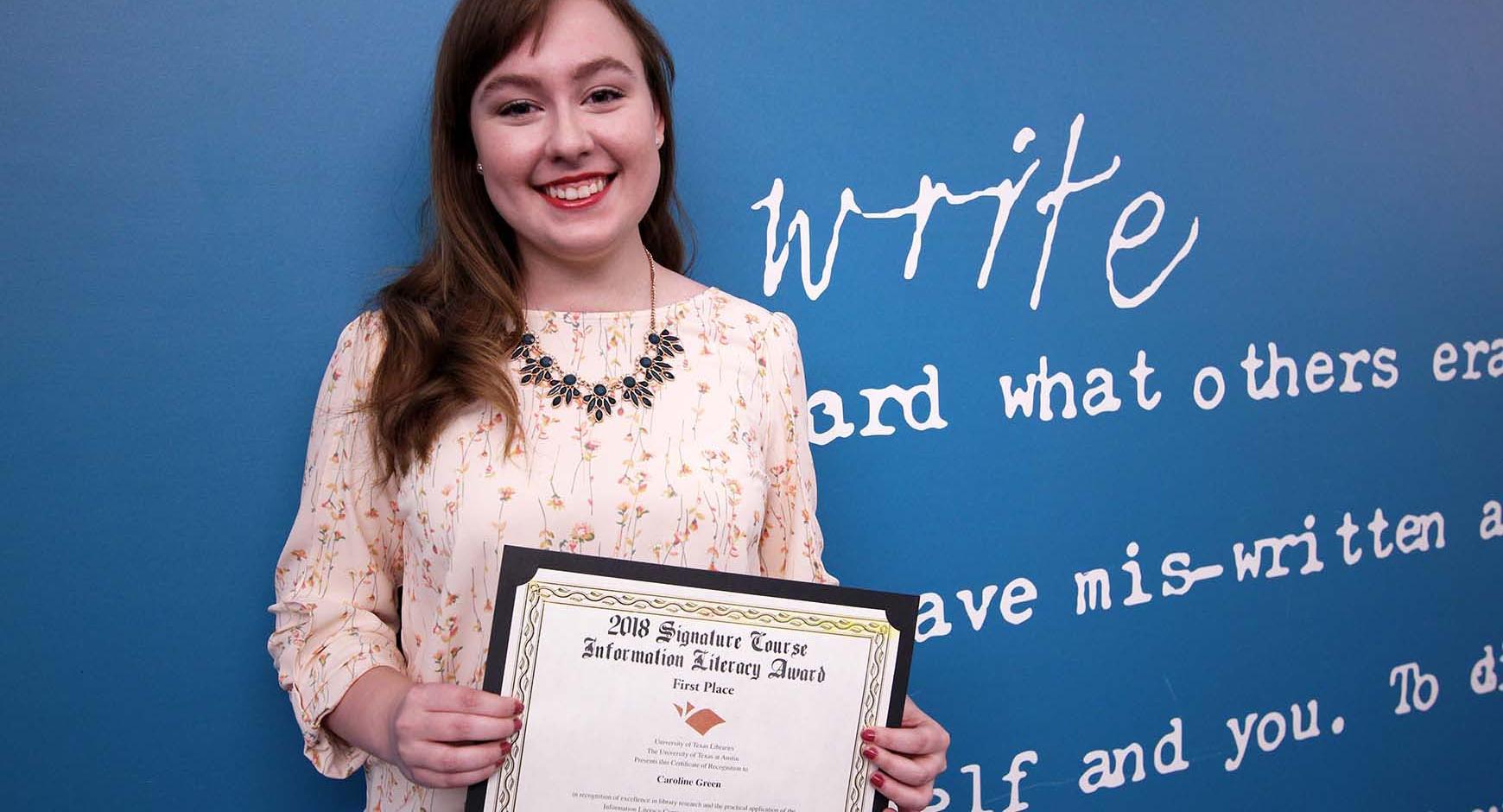 The University of Texas Libraries have announced the winners of the 2018 Signature Course Information Literacy Award.
First place was awarded to Caroline Green, a sophomore in Theatre and Dance, for her paper "Rhapsodic Apprenticeship." The paper was nominated by Dr. Adam Rabinowitz from the Classics Department and was submitted in his Fall 2017 Signature Course "Tales of the Trojan War." The project was chosen for Green's exceptional work gathering and synthesizing a diverse array of sources and arrival at an interesting understanding of her topic.
 "Once she realized that her question about the training that Homeric performers underwent required a comparative approach rather than a literary one, she dove into a wide range of sources for oral performance – and was willing, after the first draft, to abandon some that weren't as relevant to her work," says Rabinowitz. "I was particularly impressed with her ability to incorporate a startlingly wide variety of source types, including videos, audio recordings, and interview transcripts, along with the ancient sources and the standard publications."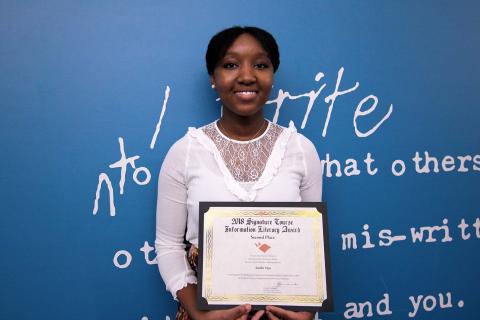 Nutrition Honors freshman Jenifer Ogu earned second place for her work on "Madonna, Whore: Exploring the Dualism in Social Perceptions of Female Sexuality," a paper nominated by Dr. Arturo DeLozanne (Department of Molecular Biosciences) and Teaching Assistant Iris Cahill, submitted in the Fall 2017 Signature Course "Originality in the Arts and Sciences." Ogu's paper was chosen for clearly illustrating her research process and effectively used a multidisciplinary array of sources.
"Ms. Ogu used sources from the fields of Art History, Sociology and Psychology to inform her research, and she consulted with me at several points throughout the semester for support verifying the rigor of her academic exploration," says Cahill. "Her paper provides a unique teleological perspective on the duality of female sexuality – something that is simultaneously desired and shamed in Western cultures – as a phenomenon with historical roots that continues today."
The Signature Course Information Literacy Award recognizes exemplary student work that achieves the learning outcomes of the Signature Course information literacy requirement, which are that students will be able to create and execute a research strategy, critically evaluate information, and navigate the scholarly conversation.
Winning projects are placed in the open access repository Texas ScholarWorks where they are available for review.
The award, which includes a monetary prize, is given annually to projects submitted in a Signature Courses, and is judged by a panel consisting of librarians, faculty and members of the Undergraduate Studies staff.