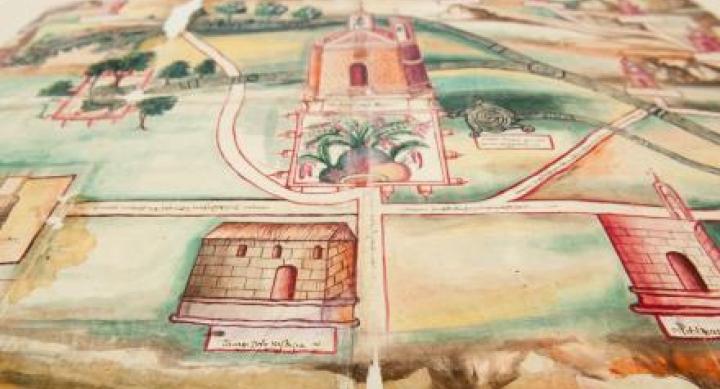 Welcome to the Nettie Lee Benson Latin American Collection Rare Books and Manuscripts room. We collect, preserve and provide access to unique special collections and archives that students, faculty and researchers from around the world use to further their understanding of the history, culture and events that shape our world. Materials at the Benson are from and about Latin America and the Caribbean, U.S. Latina/o communities, and the African diaspora. 
The Latin American Collection at the University of Texas Libraries was founded in 1921 with the acquisition of the Genaro García collection of 11,000 books, 15,000 pamphlets, 200,000 pages of manuscripts, photographs, newspapers and more. For the last century we have continued to expand our special collections to our current size of more than 4,000 linear feet of manuscripts, letters, maps, photographs, art and countless other one-of-a-kind materials. Special collection strengths include materials from Mexico, U.S. Latina/o culture and history, Central America, and the Southern Cone with special emphases on colonial history, human rights, Indigenous languages, 20th century Latin American cold war politics, and much more.
Searching the collection
Archival materials are organized primarily by the collections with which they came. These can be searched, either by collection or by keyword in the Texas Archival Resources Online database.
Browse all of the Benson's archival collections.
Search by keyword for materials at the Benson. (note: This database searches the collections of archives throughout the state. To search only our collections, select 'Benson Latin American Collection' in the 'Limit by repository' box.)
Search for rare books, audio visual materials, newspapers and other published rare material in the Libraries catalog.
Using the Rare Books Reading Room
To protect our collections, researchers are encouraged to wear a paper or cloth mask that covers the nose and mouth when viewing materials.
All materials must be used in the Rare Books Reading Room.
Bags, coats, hats, umbrellas and other personal items must be stored in provided lockers. Food, liquids and gels, gum, candy, pens and notebooks are not permitted in the reading room.
If you do not have your own pencil or loose-leaf paper, we will provide them. You may use a phone, camera and personal computer. Tripods and scanners are not permitted.
All patrons should wash their hands at least once every 45 minutes.
Requests for scans or copies are considered on a case-by-case basis in accordance with donor restrictions and copyright law. Our duplication fees can be found here.
For a complete list of reading room rules, please contact rare books staff.
Contact
Rare books room: (512) 495-4578